ARTHUR'S PASS REGION OVERVIEW
AREA BROCHURE: Discover Arthur's Pass Brochure (0MB)
Quick Park Facts
Name: Arthur's Pass National Park
Established: 1929 (3rd in New Zealand, 1st in South Island)
Area: 1144 sq.km (442 sq.mls)
Highest Mountain: Mt Rolleston 2275m ASL or Mt Murchison 2408m ASL, depending which map source you look at.
Vegetation: Mountain beech forest to east, Podocarp (rainforest) to west
Annual Rainfall: 4500mm (180 inches)
Huts: 27
Townships: Arthur's Pass Village (Pop. 25, Alt. 737m ASL)
Distances: 154km from Christchurch, 100km from Greymouth/Hokitika


Introduction
In the heart of the Southern Alps, Arthur's Pass National Park has an incredible diversity of flora and landscape. They range from eastern beech clad hills and tussock valleys to the luxuriant rain forest in the west.
Highway 73 runs through the park, giving easy access to the alpine zone. The highest mountains have glaciers and surrounding them are tussock basins, flowering herbs and alpine grasses.
Craigieburn Conservation Park is a small mountainous park adjoining the National Park on the drier eastern side of the Main Divide. Known for its skifields, it also offers good tramping, camping and picnicking.
History
The Southern Alps were well known to Maori. They used the passes to move pounamu (greenstone) from Arahura and Taramakau in Westland, to Canterbury. The Taramakau-Hurunui route over Harper Pass was easiest and had regular sequence of lakes to replenish food supplies. Before the Arthur's Pass road was built, Harper Pass was a popular route for European travellers to Westland.
Settlers explored the Canterbury side first in the 1850's to find open tussock-land for sheep grazing. Looking for a quick route to the West Coast, Arthur Dudley Dobson surveyed Arthur's Pass in February 1864. Maori told early surveyors and explorers of the location of the pass. When miners discovered gold on the West Coast, Arthur Dobson's survey work took new significance. The race was on to find a route to bring gold to Canterbury. A further search did not find a better pass than Arthur's though it did result in the mountains and valleys being better mapped and surveyed. The road across Arthur's Pass was built remarkably quickly during the very cold winter in 1865.
The railway took longer to build and was finished in 1923. People in the 1920's began to take the train to Arthur's Pass to go skiing, tramping and climbing.
Arthur's Pass was gazetted as a National Park in 1929. Christchurch climbers and trampers began exploring and mapping the area and the formation of the clubs led to the building of huts in the back country. As tunnel workers left Arthur's Pass village after the tunnel was completed in 1923, people interested in the area's natural value bought their houses.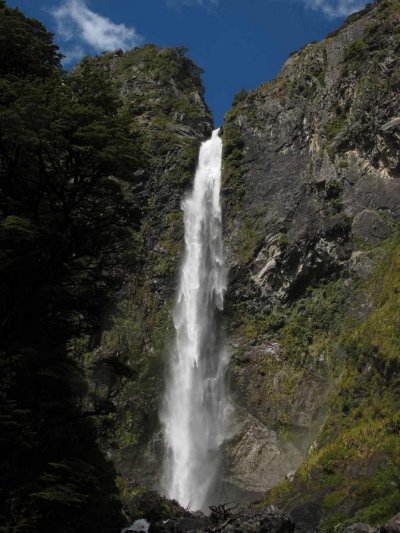 Geology and Habitats
Arthur's Pass straddles the Main Divide of the Southern Alps and is on the edge of two tectonic plates. Gradual uplift over the past two million years raised the Alps. Earthquakes are common and have dramatically rearranged some features of the park. Much of the basis shape of the land is a direct legacy of the last major ice-ages shown in the deep U shaped valleys, narrow rocky ridges and ice-smoothed bedrock. Evidence of erosion is everywhere - in crumbling ridges, screes and riverbeds.
The open braided rivers of the Waimakariri and Poulter are unique habitats, providing nesting grounds for birds such as ngutu parore (wrybill) and tara (black-fronted tern).
Mountain beech forest dominates the eastern side of the Arthur's Pass National Park and Craigieburn Conservation Park. Visitors are likely to see the common forest birds, makomako (bellbird), piwakawaka (fantail), toutouwai (robin), pipipi (brown creeper), ngiru-Ngiru (tom-tit) and riroriro (grey warbler).
On the wetter side of the park mixed podocarp forest is a marked contrast to the beech forest. This forest has luxuriant understorey shrubs, tree ferns, mosses and lichens. In January and February, rata flowers bright red in the Otira Gorge.
Above the bushline, snow tussock and alpine meadows host a range of plants and insects adapted to the harsh conditions. Here the endearing kea lives. The Great Spotted Kiwi can be heard calling in the park. Like all kiwi their survival is threatened.
Visitor Facilities
Arthur's Pass village is in the centre of the park. The Visitor Centre in Arthur's Pass village provides interpretive displays and information. Bed and Breakfast, motel and backpacker accommodation is available. In the village there is a bar, restaurant, cafe and shops selling souvenirs, basic groceries and fuel. Lodge and hotel accommodation is available in nearby towns and highcountry stations.
Day Walks
Arthur's Pass National Park offers a range of walks, from short easy strolls to demanding climbs. There are many to choose from - tracks lead you through rich forest, to waterfalls, alpine meadows and mountain tops. Snow and icicles on the tracks from July to October give them a magical charm. The Devil's Punchbowl Falls at 131 metres is a popular one hour return walk from the village. Steep tracks starting from the village take you to high peaks with 360 degree views of the surrounding mountains.
Craigieburn Conservation Park is 40km from Arthur's Pass Village. Day walks on well-formed tracks go through mountain beech shrubland. The weather is generally drier than Arthur's Pass.
Tramping
An overnight tramp in Arthur's Pass National Park can take you to glaciers, gorges and alpine tarns. Longer trips can reach remote and seldom visited areas. Arthur's Pass mountains are rugged and even shorter tramping tracks require previous tramping experience. Few rivers have bridges and they can become dangerous to cross in heavy rain. As weather conditions change quickly trampers should be prepared for any situation. The Department of Conservation (DOC) looks after 28 huts in the area, that are available for public use. The most popular have a radio link to DOC. Hut tickets, and map and route guides are available from the Visitor Centre.
Mountaineering
The mountains of Arthur's pass are great for climbing. Many routes are only climbed in winter. in summer the park, except the high peaks, is clear of snow. The most accessible mountain is Rolleston (2275m). Mt Rolleston can be climbed in a day from Arthur's Pass. Groups should be knowledgeable in mountaineering techniques and avalanche assessment. Other popular peaks climbed are Mt Philistine (1967m), Mt Oates (2041m), Mt Murchison (2408m) and Mt Franklin (2145m).
Hunting and Fishing
Introduced red deer and chamois live in the park. Red deer came from herds released in the Upper Rakaia in 1897 and the Poulter Valley in 1907. Chamois were released near Mt Cook in 1908 and took thirty years to disperse to the Arthur's Pass area. Hunters can obtain a hunting permit from the Visitor Centre.
Brown trout and rainbow trout are found in both the Waimakariri and Taramakau river systems. Quinnat salmon is also an important game fish in the Waimakariri. Lake Minchin and the lakes in the Waimakariri basin, such as Lake Lyndon and Pearson, offer good trout fishing.
Skiing
Arthur's Pass and Craigieburn have good skiing between July and mid October. Clubs operate five fields in this area; Cheeseman, Broken River, Craigieburn, Mt Olympus and Temple Basin and value their small, friendly atmosphere. Anyone is welcome for a day's skiing, or to stay for a ski week in accommodation on the field. Porter Heights is a large, well serviced commercial field.
Weather and Climate
On a hot summer day temperatures can reach well into the twenties, while in winter, fall to below zero. Arthur's Pass weather is dominated by frequent northwesterly airflows which bring heavy rain to the western side of the park. Because the eastern side of the park and Craigieburn Conservation Park are caught in the rain shadow of the Southern Alps, they receive much less rain. Heavy snowfalls are common in winter. Be prepared for dramatic changes in weather. The mountain weather forecast may be of use to you (phone Arthur's Pass Visitor Centre 03 318 9211).
Safety
The weather in the park can be very unpredictable and visitors should be prepared for cold, wet spells, even snow in the middle of summer. Snow falls are common in winter, though they rarely lie for long in the village. High rainfall causes rivers to rise quickly although they usually fall rapidly once the rain stops. Warm clothing, waterproof gear and boots are recommended for all walks and tramps. Please leave a reliable record of your intentions with friends and family or at Arthur's Pass Visitor Centre.
Access
By Car- on SH73

154km from Christchurch
100km from Greymouth / Hokitika

By Bus

Regular daily bus services run between Christchurch and the West Coast.

By Train

The Tranzalpine Express offers a daily, spectacular scenic journey between Christchurch and Greymouth.
Other References
(available from Arthur's Pass Visitor Centre)
Arthur's Pass Walks Brochure (PDF 3.7Mb) Download Here
Arthur's Pass Historic Walk Brochure (PDF 428KB) Download Here
Craigieburn Forest Park Walk Brochure (PDF 557KB) Download Here
Craigieburn Partial Map (PDF 417Kb) Download Here
Craigieburn Full Map (PDF 2.54MB) Download Here
Cave Stream Scenic Reserve Brochure (PDF 296KB) Download Here
Korowai/Torlesse Tussocklands Park Brochure (PDF 822KB) Download Here
Mountaineering in Arthur's Pass National Park